This is the latest report from Northwest Renewables' solar project manager Grant Neely, who is currently loaned to U.S. nonprofit Twende Solar to bring electricity to the Peruvian village of Mushuk Llamas, in the Amazon jungle.
Mushuk Llamas, Peru – The villagers are thrilled to see us build their solar power system. However, an unanticipated concern arose: how to keep the electrical gear and DC connections out of reach of the village children, to prevent shocks and injury? Being constantly surrounded here by kids getting into all sorts of mischief, we immediately understood the worry and got to work thinking of ways to enclose the batteries, inverter, combiner, charge controller and wires beneath the array. 
"Do you have any lumber?" we asked. The village chief answered with a wave at the forest; there was plenty of lumber, he said, and, by law, only the Mushuk are allowed to cut it.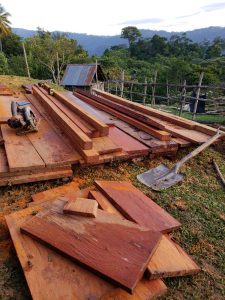 Sure enough, the next morning a Mushuk man with a big chainsaw appeared, selected a nearby tall tree, then felled and milled it on the spot, sawing long, straight boards and posts from the rich hardwood; the strongest, prettiest wood I've ever worked with — material you'd only see back home sculpted and polished into high-end furniture or jewelry boxes. 
"Wow," said one solar pro. "This'll be the world's most expensive wiring back-board!"
Beautiful it was indeed. We added foundation and walls, and soon the child-resistant electrical shed with its power-generating roof array was finished. Everything beyond the shed would be safer, usable AC electricity, with circuits to the community center, nurses station, community kitchen, and even to two floodlights for the small village soccer field.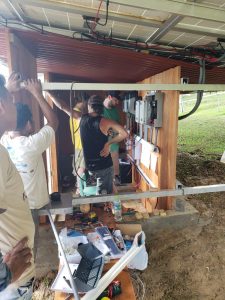 Almost every new and unusual solar project brings an unexpected challenge at some point. This one turned out to be a very cool learning experience for all of us!
You can support the Mushuk Llamas Project with a tax-deductible donation at twendesolar.org/grant.