Success!
As thick wildfire smoke blanketed Spokane in a poisonous pall last Monday, the City Council voted 6-1 before a packed chamber of supporters to move our city to 100 percent renewable electricity by 2030, and to run city operations entirely with renewable energy by 2020.
To accomplish these goals, a new city ordinance forms a Sustainability Action Committee charged with finding ways to achieve these goals along with improving Spokane's resilience to climate change.
Spokane now joins 78 other U.S. cities in pledging to adopt renewable electricity from sources such as solar, wind, hydro and biomass, while leaving behind coal-fired and gas-fired power responsible for warming the climate and oceans.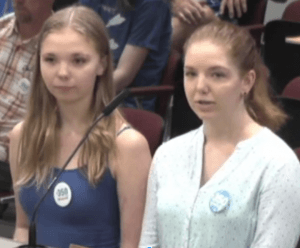 ​Nora and Hope Henning testify in support of Spokane's renewable energy ordinance.
Although the Ordinance defines the transition to 100 percent renewable electricity as, "an aspirational strategic goal" rather than as a firm requirement, that change bought acceptance by a powerful ally: Avista, the area's largest electric utility. In Monday's meeting, Avista executive Bruce Howard endorsed the measure, saying, ""We support growing our use of renewable energy in a timeframe and through approaches such as the advancement of energy storage that continue to provide reliable, affordable service."
Several Council Members also praised the close collaboration between city leaders, activists, businesses and utility interests.
Numerous environmental and social justice organizations voiced support, largely led by 350 Spokane, the local climate activism group that originally championed the idea with its Fossil Free Spokane campaign. Other supporting groups include The Lands Council, Upper Columbia River Sierra Club, Sisters of St. Francis of Philadelphia, Pax Christi Spokane, St. Clare's Ecumenical Catholic Community,  Unitarian Universalist Church of Spokane, Westminster Congregational United Church, Spokane NAACP, Spokane Independent Metro Business Alliance, Spokane Riverkeeper, The Center for Justice, Citizens Climate Lobby, and Washington Physicians for Social Responsibility.
The new 11-member Sustainability Action Commission will reflect this diversity, including utility representatives, low-income citizens, public health interests, local businesses and environmental groups, among others. They will be charged with analyzing costs related to the Ordinance–including the costs of not meeting its goals.
All of which makes this an exciting time for those of us in Spokane's growing renewable energy industry. As several citizens testified Monday night, studies show that Spokane already has 260 jobs in solar power, with another 157 next door in Kootenai County, and "Wind turbine technician" is the nation's fastest-growing occupation. These industries provide America's fastest growing family-wage, blue-collar job opportunities while also helping solve the world's most pressing challenge: climate change.
At Northwest Renewables we are excited to be part of this movement and thrilled to be located in Spokane, the latest addition to the long list of American cities committed to renewable electricity!